Finally ! After many years dreaming about it, I finally managed to land my first magazine cover. The fact that it is with the magazine Surf Session, reference in the matter in France obviously adds a lot to this feeling of accomplishment. I will finally be able to say that I made a blanket, what a foot! I'm going to be able to fart it everywhere, play it pretentious … just for a month! But that's it already. To announce the release of the new magazine, I had a few words for the Surf Session website, just like Maxime Huscenot, surfer in the photo, exchanging our stories on this image.
My version of the facts:
"It was during the incredible swell period we had, on December 9th to be precise, I checked off that day as the last opportunity before I left for California.
I was in contact with Andy Crière who, after telling me it wasn't too worth it, called me back to tell me to go up to Santocha, in Capbreton, because the waves were starting to settle. Everyone knew the spot had been on fire for several weeks. When we get there, the tide is still too low but Laurent (Pujol) is climbing the dune with his RED, a lot of people are already in the water and Andy takes a bomb so I get on with it.
Offshore, there is a lot of water movement and the spot is difficult to decipher with uninteresting heats breaking off but sweeping the peak. I move a little offshore to avoid them, and to the left that Andy is looking for. With the current, I am gently brought back to the edge and in two waves I am in the area just when a bomb is raised, I have barely been 10 minutes in the water. Maxime and Andy are in a good position but Maxime is more inside. When it was triggered, I didn't pay attention to the wave but above all to the framing, making sure to see Maxime as long as possible. Backing up, I bump into Etienne (the cameraman) who was making an effort in the opposite direction.
At the time, I know it is good, but I do not pay attention, I go back to place myself further out, to avoid another set which sweeps the peak. Looking quickly, I mostly see a nice flair on the end, which I was looking to have. While laughing, I say to myself then "it's good, you made profitable your day, you can go out" but I preferred to stay and struggle for more than an hour, in an impossible current, making the peak strangely empty without power. achieve one more image.
Shortly before Christmas, Maxime sent me an email to tell me that Surf Session had given him a surprise and thanked me for the photo, that I must have been super happy… He looked so excited that I couldn't tell. 'prevent asking the editorial staff what use it was. When I saw the cover appear on my computer, even though I already had my idea, I got stuck for a few minutes without being able to pick up the phone. It was pretty crazy, especially for a first blanket, and getting it in the water always means more. "
That of Maxime Huscenot:
"It was one of the cleanest days of the week. There were quite a few people in the water and a lot of waves passing everywhere. The left against the blockhouses was the most regular but with once you had taken a wave, it was hard to come back because of the current.
Antoine and two other photographers were in the water but had a hard time staying in place, precisely. Then the body of water suddenly "cleaned up" after a series and I was chatting with Andy Criere who had one of the best waves of the morning.
I told him that I thought there was going to be a good wave that was going to pass in not long and that he was going to have to be on it. I rowed hard towards the blockhouses to try to stay in the peak with the current, but I placed myself much lower than the other surfers. When this wave arrived, it doubled a lot. Being lower I was in the best position and on the inside. What was really cool was that I went through several sections in the tube, some on which I was braking and others where I was accelerating. It is also one of the only waves where I could see Antoine (the photographer) during my ride.
It was only when I came to the Surf Session offices that I was able to discover the sequence. I love the different lights that come into play depending on where the wave is. Thanks to Antoine for being there at the right time and thanks to Surf Session for posting my first cover of the mag! "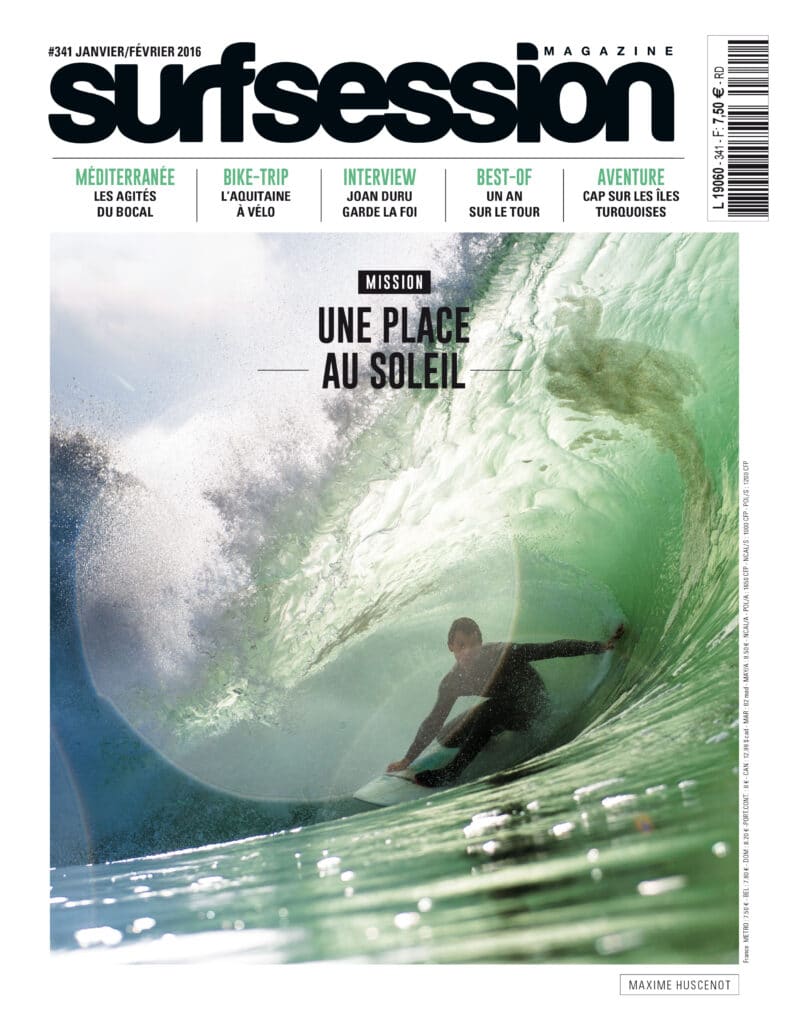 So much for the original photo!
---